RECITAL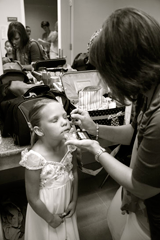 Recital: Our show is held at Pensacola's Saenger Theater! Dancers perform in the disciplines they participate in. Those enrolled in a ballet and tap class will perform a ballet and tap number in the show. The 2012-2013 show is scheduled for Sunday June 9, 2013 2:00 p.m. Tickets will be available through ticketmaster.
We do not charge our students a "Recital Fee" at the end of the year. Dancers do not need tickets to the show. We use ticketmaster for your convenience and show ticket prices will be posted at a later date.
Recital Costumes:
Costumes are ordered in December and must be paid for in advanced. A $25.00 deposit is collected for each costume during the month of October. Costumes prices vary for each class, but the average price is $45-$60 per costume. Please see our Policies & Procedures section for more detail on Costumes.